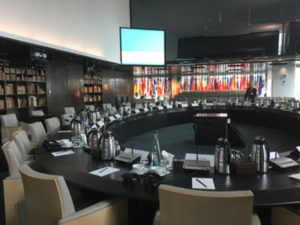 INTEGRA AES expresses great satisfaction with having been officially invited to the Italian Day 2016 by EBRD as a company able to attract the direct interest of the Bank.
Together with the most prominent Italian providers of goods, works and services, INTEGRA AES was hosted in the prestigious Board of Directors Room of the London-based EBRD Headquarters.
The Bank talked about its upcoming business opportunities in the sectors in which it is going to reinforce investment. Furthermore, this institutional meeting offered a valuable occasion to weave professional relationships and gain new contacts, crucial for business implementation. Therefore, INTEGRA AES aims at planning its future strategies and activities on the basis of the business opportunities that are emerging.
Among the topics of the meeting, INTEGRA AES' interest was attracted by the area of energy efficiency, that ranges from the use of renewable energy sources to efficiency improvement of the existing property asset. Next to this, the field of Municipal Environmental Infrastructures (MEI), which includes waste water treatment, water purification and drinking water distribution in order to reduce pollution was another appealing topic for INTEGRA AES.