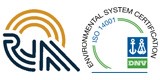 INTEGRA AES' environmental management policy is certified according to ISO 14001:2015.
INTEGRA AES has set targets for minimising pollution and limiting energy demand within its premises and regularly assesses the results.
This attention to environment concerns is considered evenly important within its core activity of design. Once assessed the site constraints, our experts define design solutions that will offer the highest level of green building performance such as water saving strategies, optimization management of energy production and consumption. Whenever feasible, our solutions will include an option with on-site renewable energy and local materials.