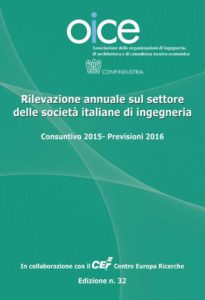 OICE (Association of Engineering, Architectural and Technical-Economic Consulting Organizations), in cooperation with Centro Europa Ricerche (Cer), has published its 32nd annual data collection about Italian engineering companies.
Warmly welcoming the analysis carried out by OICE, INTEGRA AES, decided to support the activity of the association through a sponsorship for its annual report.
The research returned an assessment on the performance of the architectural and engineering sector in 2015 and some forecasts for 2016, focusing especially on the situation of OICEassociated companies.
From the data gathered, it emerged a general production decrease during last year, particularly concerning large and medium companies; nonetheless, the lost volumes are expected to be made up in 2016. Furthermore, whilst the reduction in order books still confirms the presence of difficulties on the road to recovery, the number of contracts acquired rose in 2015 and is expected to continue to grow during the current year. Despite such positive trend, however, the internal market is still in a critical state in combination with the penalization caused by payment delays especially by the Italian Public Administration but sometimes also by private customers; consequently, companies tend to target foreign markets. Lastly, OICE pointed out how important an innovation in legislation the approval of the new public procurement code is, expressing the wish for a quick overcoming of the normal period of adjustment; in this context, the association also advocates a relaunch of Italian still weak internal market, where signs of a recovery are not yet strong enough  to defeat the economic crisis and the structural criticalities of the recession phase.
Click here to read the 32nd annual data collection by OICE.