OICE (Association of Italian A&E companies) in collaboration with CER (Research Institute) have published their latest report on Italian Engineering and Architectural International activities, which has been presented last week during a conference at the Italian Trade Agency where representatives of Foreign governments and A&E companies participated.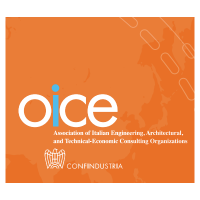 The report highlighted how most Italian companies choose the International Financial Institutions (IFIs) to start with and expand their activities overseas. The trend indicates that Central Asia and European countries (Extra UE) will be the focus markets of Italian Companies over the next years.
As in previous years, INTEGRA AES has participated in the event which provides useful insight for our international development strategy. Our firm is consistent with the market trend, as we are steadily increasing our activities abroad, with ongoing projects in the Middle East and working mostly with the IFIs.
The report also highlighted how innovation technologies are going to be game-changing for the success of future business overseas and INTEGRA AES is currently focusing on the development of IoT tools and BIM technologies.