INTEGRA AES has completed the assignment for design, H&S coordination and QA/supervision of the firefighting systems in the military port of Augusta Bay, Sicily.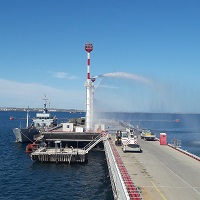 The firefighting system is composed of firefighting towers, hydrants system and recirculation pipelines installed along the pier. The system uses marine water in the event of an emergency and fresh water in normal conditions and it is designed to resist in harsh marine environment. The project also included the replacement of electromechanical, electrical and control/communication device and equipment.
Considering that hydrocarbon is being handled, it is crucial that the pier is equipped with a reliable fire protection system.  INTEGRA's staff has carried out regular and rigorous controls during the execution of the works to ensure that works and materials were fully compliant with the design and with the high standards of safety required.