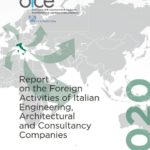 Last 24th November INTEGRA AES attended the presentation of the OICE/Cer 2020 Report (link) on International activities of Italian engineering and architecture companies.
INTEGRA AES, in line with previous editions, supported the development of the study and the organization of the event. The presentation has been attended by over 250 participants, including foreign and Italian ambassadors, various ICE country offices, associations, agencies and entrepreneurs.
The Report highlights the growth in 2019 of International business of Italian engineering, architecture and technical-economic consulting companies, following a continuous and constant trend in recent years. The turnover achieved on international markets in 2019 amounts to € 1.7 billion, which represents about 60% of the total value.
INTEGRA AES follows the trend, which indicates Asia and the MENA countries as reference markets for Italian companies. Among the major results achieved in the last year at international level, INTEGRA AES highlights the consolidation of relations with United Nations agencies, with assignments in both Central Africa and the Middle East.